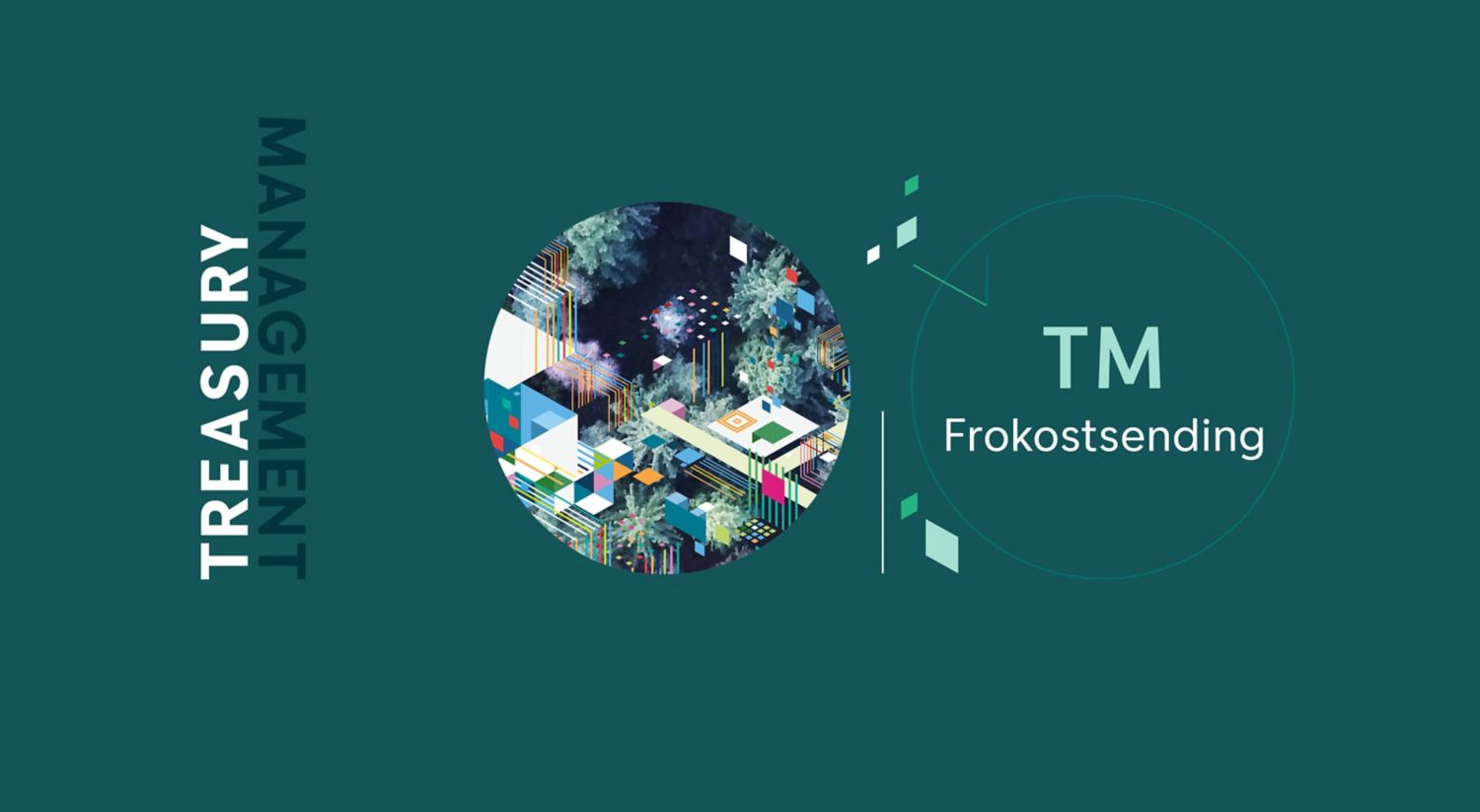 Welcome to the Treasury Management Breakfast Broadcast
For 22 years we've invited our customers to the Treasury Management Day for professional input and inspiration. This year, we are also inviting you to an inspiring morning coffee event where liquidity management and risk-mitigating measures will be the focus.
See the broadcasts here
Monday – Macroeconomics

The year 2021 was when a sharp rise in inflation caught the central banks by surprise. It is now time to tighten the belt, and the question is how tight that needs to be.

Tuesday – Sustainability

Line Asker and Lene Gulbrandsen talk about how this affects Norwegian business, and what the biggest challenges and opportunities are from the EU's taxonomy seen from a Norwegian business perspective.

Deep dive – EU's taxonomy 

To finance the green shift, the EU has launched a number of regulatory proposals in recent years in the area of sustainability and green finance. In particular, the EU's taxonomy has attracted a lot of attention.

Wednesday – Liquidity management

Liquidity management can often be seen as the machinery of a business. We meet Tom and Anders who are experts on DNB's liquidity tool.

Deep dive - DNB Finsight and Treasury Management

The TM analysis is an advisory concept where we give helpful advice on how to optimise processes through the value chain and release unnecessarily tied-up capital. DNB Finsight makes liquidity management simple and gives you better insights.

Thursday – Secure Trading

Fredrik Kværnmo Aase and Jan Martin Holst talk about world trade and how uncertainty in the market has affected import and export.

Friday – Updates from DNB's New TechLab

We had a chat with Yngvar, TED speaker and now also international author, about what he and his team are working on at the moment and how we can tackle a digital world.
Finsight
A liquidity tool that gives you an insight across the company structure, currencies and banks.
In the broadcasts you will meet
Harald Serck-Hanssen

Group Executive Vice President of Corporate Banking DNB

Harald er konserndirektør for bedriftsmarkedet som representerer hver tredje norske bedrift, og er representert i 15 land. Harald har sittet i konsernledelsen siden januar 2013.

---

Anders Grevstad

Executive Vice President Product Sales & Category, DNB 

Ansvarlig for bedriftsprodukter i DNB og tidligere leder for Internasjonale storkunder. Sitter i styret i Invidem AB, er siviløkonom fra NHH og har erfaring fra Orkla og KPMG.

---

Bente Staavi

Treasury Management Adviser, DNB

Bente har 26 års erfaring som Treasury Management rådgiver. Innehar en spesialist rolle for likviditetsverktøyet DNB Finisght i tillegg til ansvar for eventer og kundeseminar.

---

Kjersti Haugland

Chief Economist, DNB Markets

Kjersti Haugland er sjeføkonom i DNB Markets. Hun er samfunnsøkonom og har tidligere jobbet med pengepolitikk i Norges Bank, sist som assisterende direktør.

---

Line Asker

Senior adviser sustainability – Public Affairs & Sustainability

Line Asker er fagekspert på bærekraftig finans i DNBs avdeling for samfunnsansvar og næringspolitikk. Hun har fulgt EUs arbeid med bærekraftig finans og taksonomien i flere år.

---

Lene Gulbrandsen

Department manager

Lene har ansvar for bærekraftige produkter og produktutvikling innenfor lang-finansiering, innskudd og forsikring. Lene har 14 års erfaring fra ulike roller i DNB.

---

Petter Reistad

CEO of Celsia AS

Petter leder et softwareselskap som jobber for å gjøre bærekraftsscoring enklere, raskere og rimeligere. Brenner for å knytte bærekraft og finans tettere sammen gjennom tech

---

Kari Kjøll

Treasury Management Adviser

Siviløkonom fra NHH og har jobbet med bedriftskunder i DNB i mer enn 30 år. Etablerte DNBs filial i Danmark i 1996 og brenner for bankens internasjonale kunder.

---

Tom Furulund

Product manager Category Payment & Treasury, DNB

Tom er produkt manager og utvikler av DNB Finsight, et likviditetsverktøy for sammenstilling av finansiell informasjon for bedrifters daglige likviditetsstyring.

---

Anders Rønnevig

Treasury Management Adviser, DNB

Har jobbet med arbeidskapital med våre kunder i over 20 år og har han vært en sentral person i utviklingen av DNB's rådgivningsverktøy, TM Analyse. Utdanning; Master of Management

---

Marit Nygaard

Department manager Treasury Management Sales, DNB

Marit er leder for Norges største salgs- og rådgivningsmiljø innen Treasury Management. Hun har 35 års erfaring og har hatt ulike lederstillinger både i Norge og internasjonalt.

---

Ken Østreng har tidligere vært CEO i Confirmit og CFO i både privateide og børsnoterte teknologiselskaper.

---

Fredrik Aase

Department Manager Working Capital & Trade Finance Sales, DNB

Fredrik er avd.leder i Working Capital & Trade Finance Sales. Avdelingen har ansvar for å rådgi DNB kunder rundt Trygg handel. Han har mer 20 års erfaring i fra hhv Nordea og DNB.

---

Jan Martin Holst

Department manager

Holst er leder av Working Capital and ECA Sales. Tidligere erfaring er ulike posisjoner i DNB både nasjonalt og internasjonalt. Han har en MBA fra NHH

---

Ingrid Hopp

Senior Sales Advisor, Working Capital & Trade Finance   

Ingrid er sertifisert spesialist innen bankgarantier. Arbeider til daglig med å levere de beste løsningene for å sikre trygg handel og bedre arbeidskapital for våre kunder

---

Rasmus Figenschou

Executive Vice President for SME in Corporate Banking

Rasmus Figenschou er banksjef for små og mellomstore bedrifter i DNB. Hans bakgrunn fra bank er allsidig, både i og utenfor Norge.

---

Yngvar J. Ugland

Executive Vice President NewTechLab, DNB

Yngvar Ugland leder DNBs NewTechLab. Her tenker man at fremtiden allerede er her, men samtidig at den er svært ujevnt fordelt. Dette er DNBs SWAT-team for ny teknologi

---

Espen Sande Larsen

Technology Intrapreneur, NewTechLab, DNB

Espen designer og utfører eksperimenter med teknologi for å løse problemer, skape nye produkter, og finne fremtidens løsninger. Har 25 års erfaring med teknologiutvikling.

---

Kristin Skarbø

Project manager/Concept developer Market & Digital Sales, Corporate Banking, DNB

25 år erfaring innen markedsføring, Bachelor Markedskommunikasjon NMH/BI, Eventdesign, The New York Institute of Art & Design. Ansvarlig for norske og internasjonale events i 11 år

---

Jonas Rønning

Stand-up comic, Moderator, Impersonator

Jonas er svært ettertraktet både som konferansier, skuespiller og er en av landets beste parodikere. Han har vunnet den prestisjetunge bransjeprisen og "Stå Opp-prisen"

---

Jon Niklas Rønning

Stand-up comic, Moderator, Musician, Impersonator, Impro

Jon Niklas Rønning er en av landets mest populære humormusikalske komikere. Med sin unike evne til å parodiere, improvisere og ironisere er han alltid dagsaktuell.

---