Insurance of commercial property
The insurance is tailored to buildings used for commercial purposes.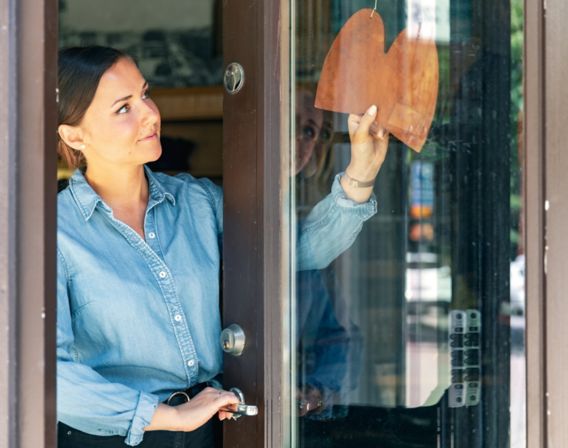 Covers liability that the owner of the building may be subject to.

Covers loss of rent after damage, until new tenants are in place.

Fully comprehensive coverage covers government regulations up to NOK 10 million
What is commercial property insurance?
Commercial property insurance covers damage incidents such as fire, theft or natural damage. The insurance covers buildings with installed equipment that's normal for the purpose of the building. This can be equipment such as kitchen fittings, pipes, heating appliances etc.
The insurance is suitable for large buildings such as offices and department stores, and smaller buildings such as club houses and business premises.
Product information
Commercial property insurance covers the following
| | | | |
| --- | --- | --- | --- |
| | Fire | Standard | Fully comprehensive |
| | | | |
| | | | |
| Occupational injury insurance that applies to unpaid labour | | | |
| Theft and vandalism that's caused by theft | | | |
| Snow weight and roof landslides | | | |
| Crushed/cracked building glass and damage to washbasins and toilets (sanitary porcelain) | | | |
| Failure of the building's construction | | | |
| Buildings with pipes and equipment | | | |
| Tools, motor vehicles up to 750 kg and movable property that belongs to the building | | | |
| | | | |
| | | 20% of the sum insured up to 36 months* | 30% of the sum insured up to 36 months* |
| | | | |
| | | | |
| General liability insurance for homeowners | | | |
| | | | |
| Satellite dishes, internet and underfloor heating | | | |
| | | 15% of the sum insured in the agreement period | 15% of the sum insured in the agreement period |
| Water damage to rooms adjacent to and below when bath/laundry room gets humid | | | |
| | | | |
| | | | |
| Gas, water and other liquid | | | |
*You can extend the sum insured
Commercial property insurance FAQ