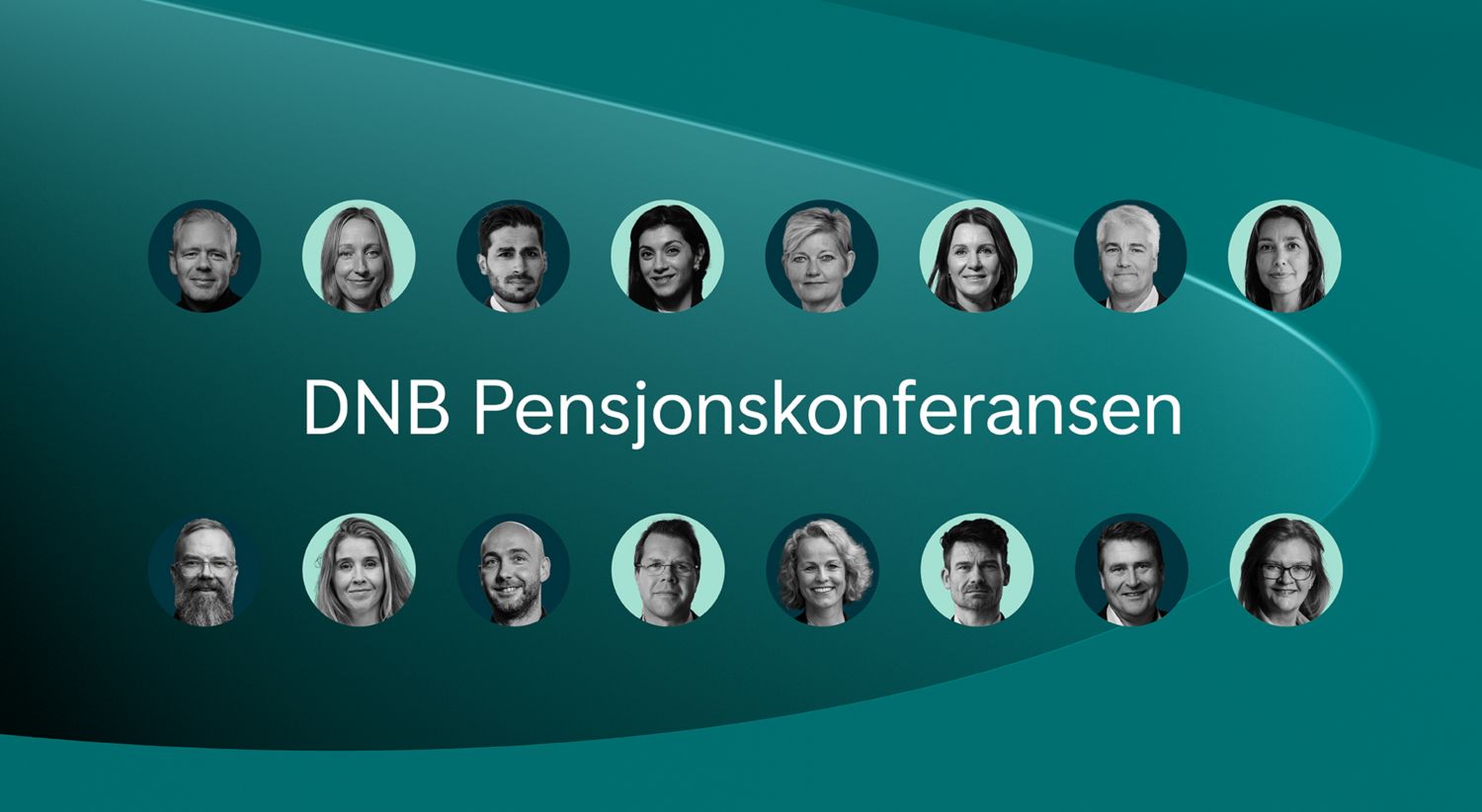 Did you miss the conference?
Don't worry, you can see the highlights here.
Pensions: A changing future
The pension framework is constantly changing. We are also facing new investment challenges, both in terms of the green shift and the unrest in the world.
At the DNB Pensions Conference, the subject of how these challenges should be met was raised.
Choose a subject you would like to learn more about and watch the video! (available in Norwegian only)
See the highlights of the DNB Pensions Conference
What is happening in the world?

Chief Economist at DNB Markets, Kjersti Haugland, gives us her macroeconomic analysis of the world today, and her outlook for the future.

What is a good pension?

Stian Revheim, expert in pensions and saving, shares his knowledge on what role pensions play in an employee's finances and how saving for a pension has evolved.

Salaries and pensions in the future

Paal Fure, who runs the largest marketing agency in the Nordic region, shares his analysis on how the population will live in the future, and what this means for salaries and pensions.

Investment strategies

Head of Investment Management, Anette Hjertø, explains investment strategies in a world of change and shares an investment manager's outlook on how the future currently looks.

Greener investments

Gine Wang-Rese discusses greener investments with Else Hendel from WWF, impact investor Javad Mushtaq and Carine Ihenacho from NBIM.

Pensions investments

Truls Tollefsen explains how expectations of sustainable investments and actual investment profiles can be communicated by you to your employees.

"Pension on the entire balance"

Per Valebrokk takes a deep dive into how "pension on the entire balance" affects businesses. With him is Roger Bjørnstad from the Norwegian Confederation of Trade Unions, Øystein Dørum from the Confederation of Norwegian Enterprise, Kjersti Hobøl from Nille and Maalfrid Brath from Manpower.
Maalfrid Brath

CEO, Manpower

Together with Kjersti and Per, Maalfrid will discuss how "pension on the entire balance" affects Manpower as a company.

---

Else Hendel

Assistant General Secretary of the WWF, the World Wildlife Fund

Together with Gine, Carine and Javad, Else will discuss greener investments and WWF's expectations from the green shift.

---

Per Valebrokk

Partners and adviser at Storm Communications

Per is a former journalist and now hosts the podcast "Stormcast with Valebrokk & Stordalen". He will lead the conversations on the subject of "pension on the entire balance".

---

Javad Mushtaq

CEO and vice chairman, MAK and EAT

Javad is vice chairman of Gunhild Stordalen's EAT, runs MAK and is the founder of the investment company JM Ventures.

---

Anette Hjertø

Head of Investment Management, DNB

Anette will look at different investment strategies and which trends are currently leading these.

---

Together with Maalfrid and Per, Kjersti will discuss how "pension on the entire balance" affects Nille.

---

Gine Wang Reese

Executive Vice President Public Affairs & Sustainability, DNB

Gine has led the revitalisation of DNB's sustainability strategy, and will chair the conversation with Javad, Else from WWF and Carine from NBIM on the panel.

---

Carine Ihenacho

Chief Governance and Compliance Officer, NBIM

Carine is responsible for the governance and compliance area in NBIM as well as their initiatives on responsible ownership. She will join the panel with Gine, Javad and Else from WWF.

---

Paal Fure

CEO, dentsu Norway and Northern Europe

Paal will review population trends that are becoming particularly important for salaries, pensions and patterns of behaviour.

---

Øystein Dørum

Chief Economist, NHO - Confederation of Norwegian Enterprise

Øystein will talk about "pension on the entire balance" from an economic perspective and why NHO - Confederation of Norwegian Enterprise thinks this hits the mark.

---

Kjersti Haugland

Chief Economist, DNB Markets

Kjersti will review the economic situation the world is currently facing and what future prospects we have.

---

Stian Revheim

Pensions expert, DNB

Stian will look at how pension regulations have affected businesses and their employees' investment choices.

---

Roger Bjørnstad

Chief Economist, Norwegian Confederation of Trade Unions

Roger will speak from an economic perspective about "pension on the entire balance" and why the Norwegian Confederation of Trade Unions wants this introduced.

---

Truls Tollefsen

Director for Wealth Management Investment Office, DNB

Truls will review how investment strategies and expectations from sustainable investments affect decision makers around pensions.

---