ESG guidelines
These guidelines contribute to sharing knowledge and helping you move in a more environmentally-friendly direction.
The guidelines describe what we believe to be the key themes around climate, environment, social conditions and corporate governance – also known as ESG. This is summarised in specified points that DNB evaluates when we give financing to customers in commercial property, residential development and the construction industry.
The industry's sustainability ambitions and priorities will change over time, and the guidelines will therefore be updated to reflect this.
Increased awareness of energy consumption
The aim of DNB's new terms and conditions is to raise awareness of energy consumption and solutions that can make buildings more energy efficient. From 1 January 2021, DNB will request new documentation for financing agreements.
Energy performance certificates for all commercial properties larger than 1000 m2 which, under the energy labelling regulation, must have this.
Annual measurements and reporting of energy consumption in commercial properties larger than 5000 m2.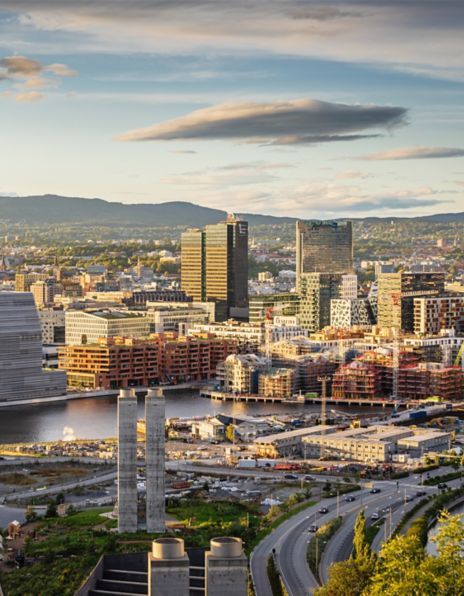 Need for sustainable new-builds
The construction of new buildings must be made more sustainable. For the financing of commercial property larger than 5000 m2 that is under construction, a certification equal to BREEAM-NOR minimum Very Good, or LEED Gold is required.
For office buildings, this applies for new financing from 1 July 2021 and for other types of commercial property from 1 January 2022 (not residential projects).
Inclusive approach
DNB wants to influence the market positively by setting a green agenda. If the terms and conditions in the guidelines aren't met, we'll still be able to grant loans for the specific purpose if the customer shows the willingness and ability to meet the terms and conditions within a limited time period.
Energy labelling
Check out the Energy labelling website for guidance on how to energy label your commercial property.
Energy improvements
Enova gives advice on energy improvements for commercial properties. You can also get in touch at 'Enova responds to industry'.
Frequently asked questions about the guidelines
What is an energy performance certificate?
How can I get an energy performance certificate?
How can I get an overview of the building's energy consumption?
How can I BREEAM NOR certify a new building?