Corporate Mastercard
The credit card for all large and small expenses such as goods purchases, online shopping, parking and employee travel.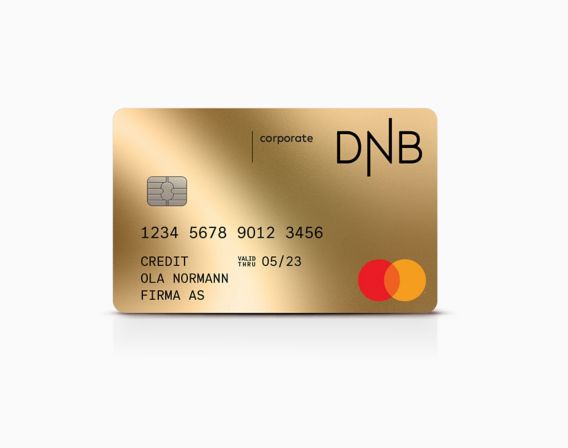 choose between corporate liability (requires 3 years' accounts) or private liability

Full overview on aggregate invoice every month

Up to 55 days interest-free credit and flexible repayment of bills
Corporate Mastercard
Effective interest rate for repaying NOK 15 000 over 12 months is 26.67 % - 29.12 %. Cost: from NOK 1 916 - NOK 2 062, total from NOK 16 916 - NOK 17 062.
Credit card for work-related expenses
Advantages for the cardholder:
secure online shopping (Mastercard Identity Check)
good travel insurance
online solution with summary of purchases and invoices
24-hour blocking service and emergency cash
choose between 15-, 20- or 25-day payment terms.
Option of using Garmin Pay, Fitbit Pay, Swatch Pay or Fidesmo for a simpler shopping experience
Full overview of your credit card
Get an overview with the My Corporate Mastercard online solution. Among other things, you can see your PIN and transactions, as well as activate your new card.
Automatic travel insurance
If you pay at least 50 per cent of the journey's travel costs with your card, you get automatic travel insurance.
Advantages for the business
Kortadmin (Card admin) – gives the company a full overview
Receive eFaktura (eInvoice) in EHF format
Travel insurance included
File transfer to travel expense system (additional service)
Book Now - Pay Later (additional service)
Kortadmin (Card admin) for the company's administrator
Get full control with Kortadmin (Card admin). Order and cancel cards with corporate liability, see invoices and incoming payments, etc.
Discount on Avis car rental
If you use your DNB Corporate Mastercard, Avis will give you up to 17.5 per cent discount on car rental.
What papers are required when applying?
What is the difference between corporate and private payment liability?
How can I apply for a card with private liability?
How can I apply for a card with corporate liability?
We already have an agreement – how can we apply for more cards?
Which credit limit can I apply for?
What is the security block for online shopping?