Pensions for employers
As an employer, you're legally required to contribute to pension savings for your employees, and saving for a pension is an important employee benefit. We've put together all the information you need right here.
Automatic reporting via the a-melding (monthly report from employer)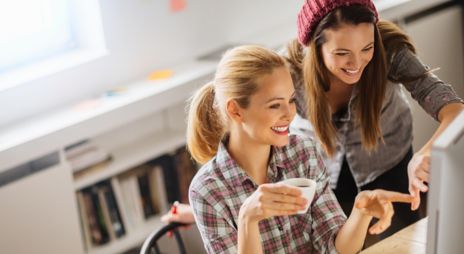 The Storting has decreed that pension providers can use data from the a-melding to update information about employees in pension schemes.
DNB aims to get the first customers transferred to the a-melding during 2022. Your company will receive written notice well before it is transferred to the a-melding.
Objective:
simplify business's day-to-day reporting tasks;
ensure that employees get more accurate pension savings.
Frequently asked questions about reporting via the a-melding
What is the business's obligation for filling in the a-melding?
Which information can we collect?
How is the FTE fraction determined?
Can updates be made retroactively?
When is the employee removed?
Good investment solutions are important for providing employees with a good pension
My Pension Profile has been developed by managers with sound expertise at one of Norway's largest and oldest asset management firms. The pension profiles have a broad selection of investments to ensure a good return relative to risk.
Learn more about the steering committee for the pension agreement. An important meeting place that ensures that employees' voices are heard.
Does your company have a pension scheme that has 15 or more employees? A steering committee must then be established for the pension scheme.
In DNB we take responsibility and sustainability seriously
We do not invest in businesses that operate in tobacco production, pornography, controversial weapons, companies with significant activities in coal and oil sands or businesses that are in violation of international standards and norms.
We also take into account environment, social and corporate governance (ESG) factors in our investment decisions. We take the role of an active investor, which means that DNB gets involved through dialogue with businesses and by voting.
The reason for the dialogue may be specific issues related to ESG but may also be about raising the business' general sustainability level.
The purpose of the dialogue is to influence the businesses in a positive way. As a guide for defining goals and best practice, we've published several expectation documents.
Pensions for your employees
As our pension customer, we'll help you look after your employees. We've therefore developed a communication package.