SAGA
For people with high income or high net worth.
What you get with SAGA
Debit card and current account
You get a debit card with BankAxept and Visa where the most common services are fee-free.
Exclusive customer loyalty programme
You join a customer programme which consists of:
Beneficial terms and conditions on home mortgages, car loans, consumer loans and the equity trading service
Your own contact person
Priority on telephone and chat
Benefits and discounts with well-known providers
Who can get SAGA?
You must meet one of the following criteria:
Have an income higher than NOK 1 000 000
Total household income for cohabitants/spouses/partners which is higher than NOK 1 500 000
Investable assets over NOK 2 000 000
Income or assets must be held at DNB.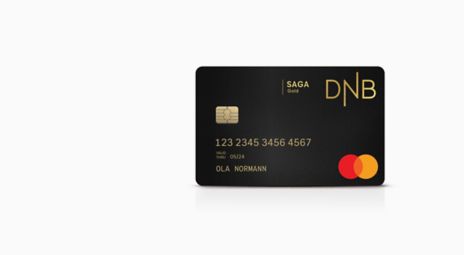 SAGA Mastercard
Credit card that offers benefits and discounts when used. You can apply for a credit limit of up to NOK 150 000.
Price example SAGA Mastercard:
Nominal interest rate 18.00%, APR 19.56%, NOK 130 000 over 12 months. Cost: NOK 13 021. Total: NOK 143 021.
Do you have a SAGA Mastercard?
Earn SAS EuroBonus points and get more attractive benefits.
Need any help?
Answer to frequently asked questions and other useful tips on cards and PIN codes.