Private Banking
Card for people with high investable net worth.
What you get with Private Banking
Our best cards
The most commonly used services are fee-free. Contactless payment without PIN for amounts under NOK 500.
Personal wealth management
Comprehensive and personal advisory services for wealth management
For families with high net worth, Family Office offers leading solutions
Exclusive customer loyalty programme
You join a customer programme which consists of:
Your own adviser who knows you and your situation
Priority service if you need help with anything
Concierge Service which assists you with ordering travel, restaurants, entertainment and shopping
Full-year travel insurance
Free doctor's appointments with Eyr
Access to airport lounges
Invitation to different professional and social events
Lower brokerage fees at DNB Markets
Who can get Private Banking?
Private Banking is for people who have at least NOK 2 000 000 in investable net worth.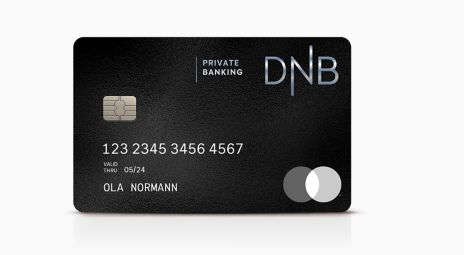 Private Banking Mastercard
Credit card that offers benefits and discounts when used. Up to 45 days interest-free payment settlement.
Need any help?
Answer to frequently asked questions and other useful tips on cards and PIN codes.