FirstVet – online veterinary
Speak to a vet online. DNB's pet insurance covers free video appointments with veterinarians at FirstVet in the event of injury or illness.
Start a video appointment with a veterinarian
An online veterinarian appointment works in the same way as a normal vet appointment, but by video. All you need is a mobile phone, tablet or PC with a camera.
Always have access to a vet in your pocket
When you have DNB pet insurance, you get an unlimited number of video appointments with a vet each year, should an injury or illness occur. If you have your mobile handy, you can rest assured that you'll get help if anything should happen, whether you're at home or away. FirstVet is open 24 hours a day, 7 days a week.
How to get in touch with a vet
Register your case with Fremtind
Activate a free video consultation
Low-threshold veterinary services
Sometimes it can be difficult to know when to visit a vet clinic and when you can wait. – Maybe you're staying in your cabin in the mountains or forest, far away from the closest vet? With pet insurance, you get access to online veterinarians so you can easily get guidance, advice and referrals when required. This lowers the threshold for getting help and avoids unnecessary veterinary visits. With pet insurance, you can contact FirstVet as often as needed, should your pet get injured or ill.
Has your pet had an accident or injury?
Start a video appointment with a veterinarian or report your pet's illness or injury online.
Questions and answers about online vets
Are there long wait times?
Do I have to pay an excess?
Can I trust the information I get by video?
Can FirstVet issue prescriptions?
Will I avoid visiting a veterinary clinic after a consultation with FirstVet?
Does FirstVet affect the price of my insurance?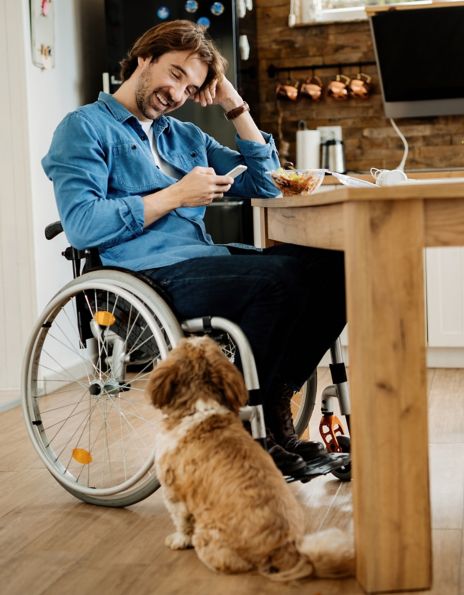 Start a video consultation and get reliable help from a veterinarian.
What can I ask the vet about?
All vets have a Norwegian qualification certificate and extensive experience. Here are some examples of what the vets and specialists can help with.
Vomiting and diarrhoea
Eye and ear problems
Poisoning
Itching and skin problems
Coughing and sneezing
Injuries and accidents