The DNB NXT Accelerator 2022
For the seventh year running, DNB and Startuplab are inviting startups to take part in the DNB NXT Accelerator.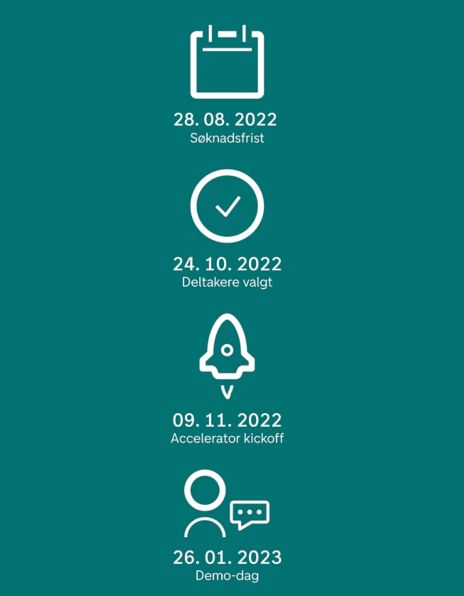 About the programme:
The accelerator programme lasts for 3 months and gives you a unique opportunity to explore a potential partnership with us in DNB. We provide relevant resources and key people, and you'll also receive an investment of NOK 1–3 million from Startuplab, and get to utilise their broad network.
We especially invite the following to apply:
Nordic tech startups
Companies with a diverse team
Revelling in the success of previous years, we are inviting, for the third year in a row, the insurance company Fremtind to work closely with relevant startups in the programme.
Would you like more information about the programme?
Get in touch with:
DNB - Maria Archontoulis
Startuplab - Nissik Juell
The Accelerator contains the following
Startuplab gives you:
NOK 1–3 million in investments (only applies to Norwegian companies)
Three months' office space at Startuplab
Weekly follow-up from a dedicated member of the Startuplab team
Access to Startuplab's network
weekly lunches for all participants where we invite experienced entrepreneurs and investors to share their knowledge and insights;
access to free consulting with legal experts from SANDS, accountants from Ekstra Ressurs and patent lawyers from Dehns.
DNB gives you:
a mentor from a relevant business area;
a sponsor from senior management;
access to relevant expertise;
a broad network consisting of internal and external resources;
potential partnerships.

The same applies whether you're a business working with Fremtind
$100,000 credit from Amazon AWS
$100,000 credit from Google Cloud
90% discount on HubSpot's CRM system
$30,000 in processing from Stripe
Who is this suitable for?
The DNB NXT Accelerator is not just for traditional fintech startups. We are looking for entrepreneurs who drive innovation across all financial services and work with big data, artificial intelligence, cyber security, blockchain or other aspects of banking and payment services for the future.
Current participants
We are specifically looking for tech startups that…
The team's characteristics
What we expect from you during the programme
About Startuplab and the investment
Our NXT Accelerator Alumni companies
"We were part of the DNB NXT Accelerator and loved the support we got, from the presentation guidance and brand building to technical meetings with data specialists and engineers. DNB helped us with many different aspects of our business"
- Alexandra Gunderson, CEO of Unifai
Find out more about the alumni companies
Read about the DNB NXT Accelerator