Refinance consumer loans and credit cards
Do you have several consumer loans, credit card debts or smaller loans? By refinancing, you can save money and have your loans collected in one place.
What is refinancing of consumer loans?
Refinancing consumer loans involves collecting expensive consumer loans and credit card debt in one refinancing loan. The advantage of refinancing consumer loans is that it can give you lower interest rates, reduced fees and expenses, fewer bills and better control of your finances.
Bring together expensive loans
Refinance a consumer loan and credit card in one loan in one place
Save money
Get lower interest rates, reduced expenses and fewer bills
Get control of your finances
Get full overview of the loan in the online bank and mobile banking app
Refinance your consumer loans into your home mortgage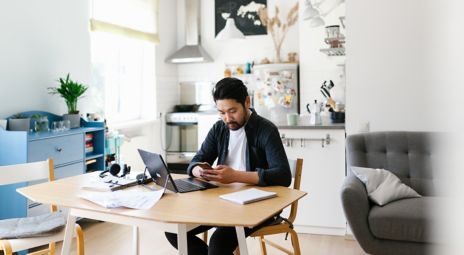 If you can borrow more on your home, it can make sense to consolidate your consumer loan into your home mortgage.
Have you paid off part of your home mortgage, or carried out maintenance or refurbishment that has increased the value of your home? Borrowing against a home can in many cases be the best solution to get rid of expensive small loans. The interest rate on home mortgages is lower than on credit cards and consumer loans, and including a consumer loan in your home mortgage can save costs and offer better advice.
Talk to us about refinancing a consumer loan as part of your home mortgage. Book a meeting with an adviser.
See how much a consumer loan costs
Use the calculator to see how much a consumer loan will cost per month.
Get an overview in the Norwegian Debt Register
The Norwegian Debt Register gives you an overview of all consumer loans, credit cards and other credits registered to you.
Price example consumer loan
Nominal interest rate from 10.9%, effective interest rate 11.7%, NOK 100,000 over 5 years, establishment fee from NOK 500. Cost NOK 30,806. A total of NOK 130,806. See loans price list.