The information on this page is general. Your company may have specific schemes that differ.
Share savings for employees
Information about buying, selling and owning shares in the company you work in.
Help with buying and selling shares in your own company

Full summary of what you own
You can order access a little further down this page.
Share savings programmes for company employees have existed in Norway since Freia launched their scheme in 1929. Today, almost 7 in 10 exchange-traded Norwegian companies have some form of share savings programme for their employees.
We in DNB Markets help many of the corporations in Norway that have share savings programmes. We help employees with the practicalities of buying, selling and holding shares.
Your employer will always give you full details of your company's offer and the terms and conditions that apply.
You have received an offer to buy shares at work – what should you do now?
Open a securities account and a trading account
Place your order before the deadline
Contact us if you have any questions
Check your holdings in the online equity trading service
How can you sell your employee shares?
If you are a DNB customer and have access to the VPS account you have used for savings in our online equity trading service, you can sell your shares in the normal way. Watch our demo videos (below) to see how to do this. If you have another VPS account that cannot be accessed through DNB, you must first transfer the shares to the VPS account that is shown on our equity trading service before you can sell them. We explain this in the video below.
When you buy or sell shares, a brokerage fee is charged. You will also find our price list below.
To trade shares online, you must be a permanent resident of Norway with a Norwegian national identity number or temporary social security number (D-number).
Important information about the lock-in period
Shares with a lock-in period are not blocked. You are responsible for checking how many shares can be transferred without losing your bonus or other benefits
…you don't have access to DNB's online equity trading service?
…you get an error message when ordering the online equity trading service?
How can I check restricted holdings and how can I transfer shares between accounts? (In Norwegian only)
Julie Gusdal from our Registrar's Department explains how to do this, step by step. (In Norwegian only)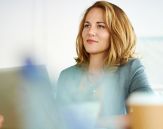 VPS and Investor Services
Read more about the difference between a VPS account, share savings account (ASK) and trading account and get an overview of what Investor Services can do for you.
Securities Services
Securities Services help owners and issuers of securities. Their services make administering ownership easier.
Is there a lock-in period?