Ung-milliarden
Ung-milliarden makes it possible to get home mortgages, even without a full 15% equity.
Can I get a home mortgage, even without a full 15% equity?
At DNB, we want to help as many young first-time buyers as possible realise their dream of owning their own home. Normally, low income and the need for a down payment are the biggest challenges for first-time buyers. Every six months, we lend a billion kroner to young first-time buyers who don't have a large enough down payment or help from parents – we call this "Ung-milliarden".
Price example First home mortgage
Mortgage of NOK 2,000,000 payable over 25 years. Nominal floating interest rate from 5.04 %, annual percentage rate of charge (APRC) from 5.23 %. Annuity loan with monthly payment NOK 11,803. The total amount payable would be NOK 3,544,090 made up of the loan amount plus interest of NOK 1,544,090. Presupposes a mortgage on the home.
Ung-milliarden
With Ung-milliarden, we can provide you with a home mortgage, even if you don't have the full down payment, as long as you have sufficient income and a good payment history. This means that you can get a loan from us, even if you do not meet all the loan requirements.
What do you need to get a home loan?
All banks in Norway must comply with the authorities' lending regulations, which require a thorough assessment of the borrower's finances and history.
Ability to pay: You must have a fixed income that indicates that you can cover the loan expenses, even if the interest rate increases by 3 percentage points. We'll see if you'll be left with enough to pay interest and instalments after all other bills and expenses have been paid.  
Total liabilities: The main rule is that you cannot borrow more than 5 times your income. This applies to total loans, including, among other things, student loans and consumer loans. 
Equity: The main rule is a minimum of a 15 per cent down payment for home purchases.
Payment history: Even if you have a high enough income, your application may be rejected if you don't pay your bills. All loan applications are subject to a credit check.
The bank's area of opportunity
We must follow the rules set out by the authorities for home mortgages. This means that we cannot always provide loans to everyone through Ung-milliarden, but we promise to do what we can. If we can't help you right now, we have our own Young Adults team who can give you the guidance you need to achieve your goal of buying a home in the long run. Contact one of our Young Adults advisers and together we'll find a solution for you.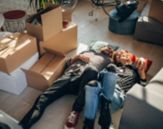 BSU – home savings scheme for young adults
BSU home savings scheme is the savings method for people under the age 34 who want to save for a home.
How does Ung-milliarden work?
Who can get help with Ung-milliarden?
How much of a down payment do I need?
What is the bank looking for?
What is additional security?
What does it mean to have a co-borrower?
What does it mean to have a co-borrower?
What does it mean to have a guarantor?