Change insurance company
Get help moving your insurance policies to DNB.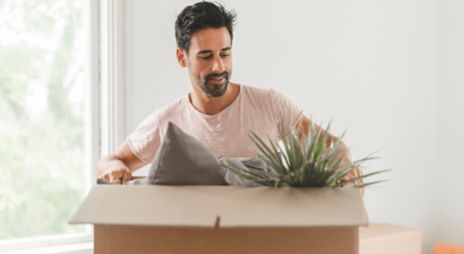 When you switch insurance company, we help you with all of the practical matters by terminating your policies at your old company and moving them over to DNB.
It's useful to have both banking and insurance in the same place. Together we get an overview of your finances and can more easily find insurance for you and the cover you need. Ask for a non-binding quote and we'll sort out the rest!
Combine banking and insurance at DNB
Full overview of your personal finances
See both insurance and banking services in the online bank.
Less to think about
Have just one company to deal with.
Simple transition
We do everything for you: move the insurance policies and cancel the old ones.
Get a discount on insurance
Up to 20% group discount on insurance, and an extra 5% if you're in the DNB customer programme.
Best in test!
Our insurance company has been voted best in test for claims settlements, according to bytt.no.
This is how you move your insurances
It's easy to switch insurance company. All you need to do is ask for a non-binding chat with us by phone. One of our advisers will call you with a quote for your insurance.
You don't need to contact the old insurance company, we'll organise the termination.
Have you paid too much?
You aren't locked in to your insurance company and you don't need to wait until the renewal date to switch.
If you decide to switch your insurance company in the middle of the insurance year, you'll be refunded any overpayment when you transfer your insurance. If you haven't paid enough, you will receive a final invoice.
Are you waiting for a claims settlement from the company you're leaving?
Your claims settlement will not be affected because you switch insurance companies. Your settlement will be handled as normal by the company you are leaving.
Insurance for everything you value
Insure yourself, your family and your valuables.
Fremtind Forsikring
As a DNB customer, you get insurance supplied by Fremtind Forsikring – one of Norway's largest insurance providers, with extensive experience. You are still a customer of DNB, and should contact us if you want to buy insurance, make changes, make a claim or have any questions.
To give you an offer, DNB will share your personal data with Fremtind. You can see how this is processed in Fremtind's personal privacy statement.