Boat insurance
Launch your boat without any worries. Calculate prices for boat insurance and choose the coverage that suits you best.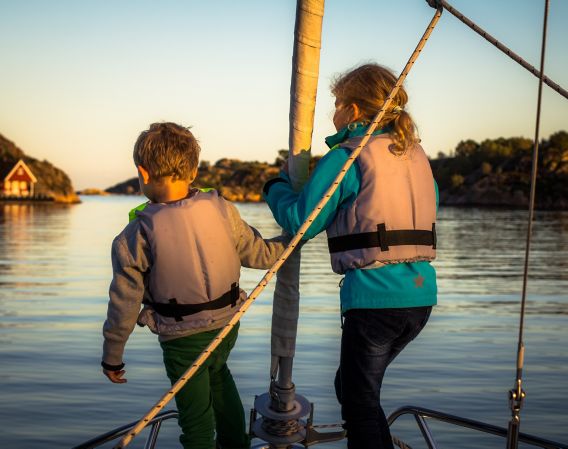 Covers theft and vandalism of boats

Mechanical/sail damage up to 10 years with fully comprehensive
Best in test boat insurance
Customer assessments provide honest information, and every month bytt.no compares reviews by different insurance customers. Based on our customers' feedback, our insurance company, Fremtind, comes top in both best claims settlement and customer services.
See where we score best in test within the area of insurance, or check the leaderboard for boat insurance at bytt.no.
Don't miss out on your holiday just because you have bad luck with your boat.
Boat insurance secures your holiday
Bad luck happens at sea, but that doesn't mean you to miss out on your holiday. With boat insurance you can enjoy a safe holiday even if the boat is damaged and you can't continue sailing.
With Comprehensive and Fully comprehensive, you can get your expenses covered to keep your holiday afloat, with a rental boat, rental car and accommodation at up to NOK 1500 per day (Fully comprehensive).
What does the boat insurance cover?
Check prices of boat insurance
What does boat insurance really cost? You don't need to pull out your calculator – we'll do the work for you. We do a calculation and recommend an insurance policy based on, among other things, the boat's age, model, number of feet and what we find out about you.
Insurance for row boats, small boats, sailboats and motor boats
By providing some information about your boat, you'll get a more accurate calculation of the price of the boat insurance. Tell us what type of boat you have and fill out the form that follows to see the price, excess and summary of cover.
Compare boat insurance
When you buy boat insurance, you can choose between Limited comprehensive, Comprehensive and Fully comprehensive. You will find the insurance that covers your needs in the table below – from the cheapest boat insurance to extra peace of mind with fully comprehensive.
| | | | |
| --- | --- | --- | --- |
| | Fully comprehensive | Comprehensive | Limited comprehensive |
| | | | |
| Driver and passenger accidents | | | |
| | | | |
| | | | |
| Theft of the boat and vandalism | | | |
| | | | |
| Installed additional equipment | | | |
| | | | |
| | | | |
| Collision, capsizing, grounding and sinking | | | |
| | | | |
| Damage at launch or retrieval | | | |
| Damage to engine due to infected or contaminated fuel | | | |
| | Up to NOK 1500 per day for 15 days | Up to NOK 100 per day for 10 days | |
| Additional costs for return travel or accommodation in the event of an interrupted boat trip | | | |
| | | | |
| Damage to sail and engine | | | |
| New car in the event of total damage | | | |
| Damage to storage equipment | | | |
The table is a guide (updated 9.6.21) See terms and conditions for supplementary coverage overview.
At sea, comprehensive insurance is especially important.
Comprehensive insurance is recommended for boats
Different rules apply at sea to on land when it comes to insurance liability. That is, when you drive a car you have a statutory liability for damage you cause others. In other words, if a car damages something or injures someone, the car is the cause of the damage or injury and the driver or owner is liable.
It works differently with boats. The one who caused damage to a boat is only liable if they have been negligent or are directly responsible for the damage.
If your boat is damaged, you therefore run a greater risk of having to pay for your own repairs, even if it's not your fault. This means that it is especially important to have comprehensive cover at sea. This way you are insured against the many different situations that you would otherwise have risked paying for yourself.
Examples may include if your boat is damaged by another boat that capsizes in bad weather when laid-up. Or if someone collides with you due to a technical fault on their boat.
Get discounts on insurance
Up to 20% group discount on insurance, and an extra 5% if you're in the DNB customer programme.
Fremtind Forsikring
As a DNB customer, you get insurance supplied by Fremtind Forsikring – one of Norway's largest insurance providers, with extensive experience. You are still a customer of DNB, and should contact us if you want to buy insurance, make changes, make a claim or have any questions.
To give you an offer, DNB will share your personal data with Fremtind. You can see how this is processed in Fremtind's personal privacy statement.