Caravan insurance
With insurance for your caravan, you get cover for burglary, theft and fire, and roadside assistance when you need it.
Choose the coverage you need
We offer two different options for caravan. Comprehensive offers the best coverage, and is the one you should choose if you have an expensive and newer caravan. Limited comprehensive covers most things, but does not have as many benefits as Comprehensive.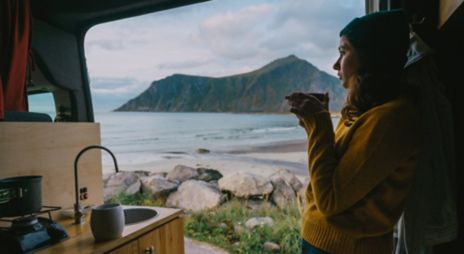 Caravan insurance protects you holiday
Accidents happen, but it can be especially frustrating when it occurs during your holiday. With caravan insurance you don't need to interrupt your holiday should something happen. If you have comprehensive insurance, you get cover for to keep your holiday on track at up to NOK 1500 per day for two weeks.
Norway's most satisfied insurance customers!
Our insurance company Fremtind has been named the customer favourite of the year in 2022 on bytt.no – Norway's largest website for user reviews and customer ratings in personal finance. Fremtind is among the best for customer service and claim settlements according to Bytt.no, which updates results monthly based on experiences from the consumers themselves. See what else makes us best in test for insurance.
Rent out your caravan?
Don't leave your van sitting there unused when you have the chance to make some extra income. If you choose Comprehensive insurance, you get cover for private rentals, for up to 2 months a year.
Compare insurance for caravan
When you buy caravan insurance, you can choose between Limited comprehensive and Comprehensive You will find the insurance that covers your needs in the table below – from the cheapest caravan insurance to extra peace of mind with Comprehensive.
| | | |
| --- | --- | --- |
| | Comprehensive | Limited comprehensive |
| | | |
| | | |
| | | |
| | | |
| Nail tents, extensions and awnings | | |
| | | |
| Humidity damage (annual checks required) | | |
| | | |
| | | |
| | | |
| | | |
| | | |
Get a discount on insurance
Up to 20% group discount on insurance, and an extra 5% if you're in the DNB customer programme.
Fremtind Forsikring
As a DNB customer, you get insurance supplied by Fremtind Forsikring – one of Norway's largest insurance providers, with extensive experience. You are still a customer of DNB, and should contact us if you want to buy insurance, make changes, make a claim or have any questions.
To give you an offer, DNB will share your personal data with Fremtind. You can see how this is processed in Fremtind's personal privacy statement.